Melbourne, Our Town

Melbourne is the location of AppliCad's Corporate Headquarters and where we live. Melbourne is set around the shores of Port Phillip Bay. The city itself, laid out in a large rectangle and boasting a lively and cosmopolitan pulse, sits on the northern banks of the Yarra River, about fifteen kilometres from the bay.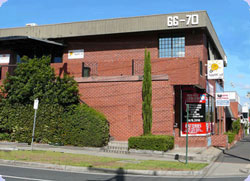 Our office in the inner Melbourne suburb of Blackburn.
One glance at a map and it's obvious that Melbourne is a planned city: a tidy, balanced grid of neatly angled streets. But beneath this sense of everything in its place restraint lies a restless creative energy constantly pushing back at the city's seeming conservatism. The CBD is made up of precincts - distinct enclaves each with its own flavour and charm. Some are just a lane or two, while others cover the banks of the Yarra River or a busy CBD street.
Extending around the bay are a number of inner suburbs, each with its own distinct character and personality. A short train ride from the city centre, Melbourne's suburban neighbourhoods are a must see for anyone wanting to experience what life here is really all about.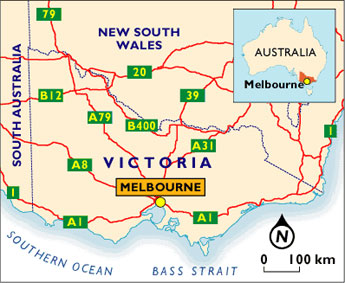 Australia's second-largest city, Melbourne boasts great festivals and shopping, a passion for food and wine, and fabulous arts. Outside Melbourne, you'll find a host of regional attractions, from the little Penguins to the spectacular Great Ocean Road. Known as a style-setter, Melbourne is home to a non-stop program of festivals, renowned dining, major art exhibitions and musical extravaganzas.
We wouldn't like to live anywhere else! For more information about Melbourne and the surrounding districts, please visit the "That's Melbourne" web site -
http://www.thatsmelbourne.com.au
or the Victorian Tourism Authority web site - http://www1.visitmelbourne.com
Check out our weather at - http://theweather.news.com.au/